CAL-BRED INCENTIVES AWARDS PROGRAM
A STATE PROGRAM FOR OWNERS, BREEDERS AND STALLION OWNERS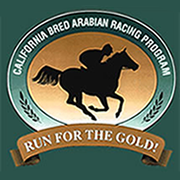 This program is provided by state law to promote the horse racing industry in California. Owners, breeders and sire owners of Cal-Bred horses share a percentage of the state designated money each year. ARAC was successful in introducing legislation with the State of California to bring Arabian Cal-Bred awards in line with those paid out to other racing breeds.
EXTRA CASH AWARDS DISTRIBUTED YEARLY
The cash awards are generated by monies wagered on the races. Each time a Registered Cal-Bred Arabian finishes first or second in a race in California, the Owner, Breeder and Sire owner earn money. This money is distributed on a yearly basis with 55% to the Breeder, 20% to the owner, 15% to the stallion owner and to promote the Cal-Bred Awards Incentive Program.
DEFINITIONS
The breeder is the person/persons listed as breeder of record by the Arabian Horse Registry of America; the owner is designated as the licensed person or persons (owner or lessee) listed in the official racing program at the time of the race; stallion owner is as recorded by the Arabian Horse Registry of America on December 31 of each racing year.
FOR CAL-BRED REGISTRATION:
Please download and print, formats in Word or PDF
CAL-BRED REGISTRATION FEES:
ARAC members:
paid on or before December 31 of foaling year $25.00
paid on or before December 31 of two-year old year $50.00
paid on or after January 1st of three year or older year $75.00
Non-members pay the prescribed fee plus an additional $25 of the above listed fees
Non-Members:
paid on or before December 31 of foaling year $50.00
paid on or before December 31 of two-year old year $75.00
paid on or after January 1st of three year or older year $100.00